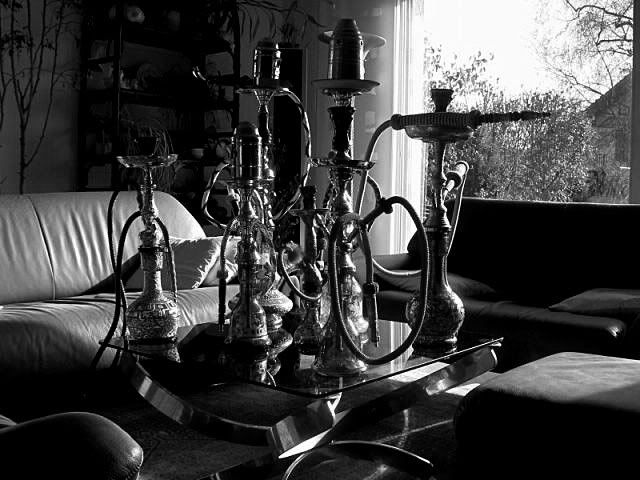 Who would have guessed that the hard striking coldness, threatening every step directed towards the same horizon the Sun romanced with all day long, was soon to become a mildly perfumated atmosphere, coloured not by colours, but by the certain feeling of them surrounding you in the chiaroscuro... that tirany of the nose over the senses.
It didn't took me too long to catch up the chaotic -but never random- steps of my sri lankan mate, Myuron. He was just living the sidewalk with some friends of his, leaving an afternoon of lectures behind, just as I was doing.
I joined them for sheesha, in a friendly sheesha place which dragged us all the way through
Rusholme
's special universe, where I had the chance to exchange some words with the other guys. We sat at the back corner while "Sanman" asked for the sheeshas in his moroccan arab, and Myuron turned the small table into an improvised card table. I taught them how to shuffle the deck of cards they had brought, and a moment after I was winning my first international card game against Richard, Myuron's Cypriot friend, and the others were filling the room with the orange and cherry aromatized smoke from the pipes. The rings and smells really seemed to light up the numbness of the tired afternoon light with fluorescent gusts, which followed each other with the patience and the perseverance of the tides.
We didn't leave until I got to win my first card world cup against a Sri-lankan, a Moroccan, a Cypriot and an Iraqi (Tam, the second I know now), and Richard had a problem solved: he had told some friends of his some days ago, that he was going to a party with them that night, but had regreated the decission and then felt bad for stepping off -a dilema I got to see resolved via cell phone in greek.
Me and Myuron headed then for
Owens Park
where he taught me you can safely stop a two-floors bus in the street for you to cross the road, just by raising your arm in this certain way. A trick I wont be performing as often as the people who want me dead would like me to, but
ad hoc
for giving an end to an afternoon of invisible colours and coldness once again beaten.